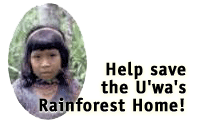 There are many good reason to save the world's rain forests. One of the most important being that the rain forest is an important factor in the Earth's delicate natural balance. Millions of people around the world are unaware of its importance to the planet and continue to destroy this natural wonder just for profit!

Rain forest loss may greatly change weather patterns throughout the world.
The culture and traditions of the forest people will be lost with the disappearance of these forests.
Many important products, such as valuable medicines, come from the rain forest's plants. These are used in traditional medicine and homeopathy. In fact many new medicines will be discovered in the rain forest if we don't destroy them first!!

Many animals depend on rain forests for their survival. When forests are destroyed, habitats are lost, thus endangering the lives of many animal species.
Loss of forests creates problems for nearby regions, the most serious of which are soil erosion and water pollution.
There are many other answers to this question. These are just a few of them.

I hope you follow up on these links to learn more, and maybe YOU JUST MIGHT MAKE A DIFFERENCE!
REMEMBER WHEN YOU GO TO ANY LINKS OUTSIDE OF THESE PAGES PLEASE DO SO WITH AN ADULT HELPER.
Use your back button when going to any of these links.

Links to saving the rainforest sites:
65 Things You can Do To Save The Rain Forest
What is being done to save the rainforest?
World Class-Saving the Rain Forest
How can we help save the rain forest?
Get Real--Story Archives
Save the Virtual Rain forest--Plant trees
You can also write to conservation groups or rain forest organizations to find out how to help or where to send contributions.
Save the Rainforest
604 Jamie Street
Dodgeville, WI 53533
World Wildlife Fund
1250 24th St. NW Suite 400
Washington, DC 20037
The Nature Conservancy
1815 North Lynn St.
Arlington, VA 22209
Wildlife Conservation International
New York Zoological Society
Bronx, NY 10460
The Children's Rain Forest
P.O. Box 936
Lewiston, ME 04240