A Letter for Parents
Your child is unique! We will discover throughout the course of the year the many talents your child possesses. Together we will watch your child blossom to be all he or she can be.
Parents play an important role in the development of their child. You, as parents, must help your children develop the willingness to learn throughout a lifetime, to maintain curiosity, and to welcome challenges.
KNOW YOUR CHILD
Hold a conversation time with your child. Tell them about your day and then ask about theirs. Listen to your child and learn about their ideas and values.
Be consistent when you need to discipline.
Respect your child and their rights.
BUILD SELF CONFIDENCE
Show interest in your child and always praise them for a job well done. Remember each child is different!
Help your child discover things that they can do for themselves. Children must experiment.
Your child should learn from their mistakes as well as their accomplishments. Remember, a child should be encouraged, stimulated, and guided.
INVOLVEMENT
Be involved in your child's learning. Check your child's folder EVERY night. You'll be amazed at what you'll find.
It should contain notices of importance from the school or PTA, homework, flyers, and sometimes letters from me.
Please sort through these, even though at times it might be inconvenient at the time you're doing it. Most of the time the information will be most helpful. Empty that schoolbag! Just send in the folder which should contain your child's signed homework.
Classroom Procedures
These procedures are very important for you to remember!
Your child will need his/her backpack every day. Please label everything since many of the children end up having the same one. Remember that means pencils, crayon box, glue sticks, etc. This makes it much simpler to return the item lost to its owner.
If your child is buying lunch please put the money in an envelope labeled with your child's name.
Birthdays are always an important part of the day! Please notify me if you want to send in cupcakes. We don't want your child to have to share the day with another child, if at all possible.
Your child will need a snack everyday. Lunch will be at 1:15pm so I'm sure that your child will welcome some type of snack at around 11am. If at all possible a healthy snack would be best, but I will not tell you what to send in for snack.
Most importantly, please CHECK and SIGN your child's homework every evening and make sure that your child has the responsibility of putting the homework into the backpack.
For more information on homework please click below.
Parent - Teacher Communication
I always make myself available to the parents of my class. When your child enters my classroom I want them to feel happy and excited and ready to begin a fun day of learning. Therefore, I implore you to remember to call me if something is bothering you or your child! It could be a death of a pet, a nightmare, someone picking on them, etc. You all have my home phone number and two e mail addresses. I am there for you and your child. My phone never gets shut off just because it is an evening or a weekend. Please remember that!
E- mail at home is:
Click below on picture for supply listing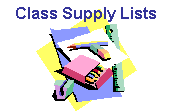 When you and I work together, we will be building the basis of a wonderful school year for all to enjoy. Please remember to check our Events page so you can view what will be taking place this year and make arrangements accordingly.