Penni was an aide in Mrs. Stein's Second Grade Class in 2001-02.
Her children came to know and love Penni, as much as Mrs. Stein did.
These thoughts of the children tell it all.

PARP
Everyone loved her
Nice
Never yelled
I miss her
Happy
Always caring
Really special
Totally dedicated
Never let peanuts near me!
Enthusiastic
Truly a friend
The nicest person
By: Vincent Nichol

A Poem For Penni
Even though you've passed away, these are some things I'd like to say.
Love is red
Oceans are blue
Now that you're gone
Many tears will be shed for you.
Sunshine is warm and yellow
like your eyes that were so bright,
Your smile would always brighten
the darkest night.
I'm only 8 and I surely
do not understand why.
It's so sad that it draws
tears to my eyes.
I will think of you and smile
inside
I will think of you with
the proudest of pride.
You will always hold a place
in all of our lives.
We will remember the light
that shown bright from your eyes.
Thank you for always
giving things your all.
Canaan kids will stand
proud and tall.
By: Joseph F. Silva

Penni was our aide for Vincent. She was always so nice to us. She was very pretty. Penni collected chip bags with numbers on the back, for her son, Zachary. Taylor found a lot of chip bags for her. When she would come into lunch everyone was so happy! Everyone always wanted at lunchtime to sit next to Penni.
She suffered over cancer. I was so sad. We all liked her so much. I knew her well.
Thank you for being our aide.
By: Emma V.

Even though you passed away
Here's some things I'd like to say.
You did a great job setting up the book reading club, called PARP, in March.
You did a great job following Weight Watchers.
You loved to collect those polids.
You were always happy.
You were the best aide I knew!
Thank you for taking care of Mrs. Stein's Class.
By: Melissa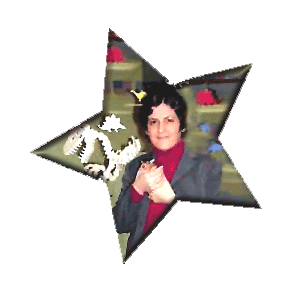 "Canaan's Guardian Angel"
Once there was an angel named Penni. She had beautiful, ebony hair, that flowed like water in the sea. She watched over Canaan Elementary School. This is where she worked. Her son went to that school. She loved Canaan, and missed it. But, she knew she could always watch over everyone there.
A great memory I had with Penni was...
The girls from our class decided to dress like Penni during lunchtime. Penni decided she was going to wear a long black skirt and blue jean jacket the following day. So, the next day we ALL wore our black skirts and blue jean jackets. It was so much fun! We all wanted to be just like Penni!
Penni
Penni was playful
As her hair was heavenly.
Her eyes shined liked a shooting star
She was my idol.
By: Tara

What I Remember About A Special Woman
I'm writing this letter about a very special woman I remember. Her name was Mrs. Penni. Whenever I was in her presence she made me feel as if I was worth a million dollars!
She always was very kind, and always had a smile on her face whenever she saw me. I always felt very wanted and loved by her. She cared about everyone and most of all I know she cared about me.
It's so sad to know that she is not with us anymore. But, one thing I know is that she'll always hold a special place in my heart.
My tears and my condolences go out to her family and friends, especially her son, Zachary, who I know very well. It must be very hard to deal with. I'm so happy my mom is still here.
I've cried for Mrs. Penni and maybe God put her in a better place. So maybe she wouldn't suffer anymore.
I wish I could of told Mrs. Penni how much I loved her. But, in my heart I felt she knew!
God bless her and I'll never ever forget her!
Love,
Victoria

Penni was a very nice woman. She told jokes and made us laugh. Penni was also very beautiful. She was very nice to everyone and very helpful in answering some of our questions. She will be missed by all of us, especially her children.
By: Jennifer

Please read a poem written by Codi, Penni's daughter.
Click on the angel.

*Picture by: Mrs. Z