Lynn lost her battle with cancer on February 11, 2005. She will be missed by everyone that she has touched in the Canaan Community. Parents, children, and teachers alike will miss the beautiful, warm hugs we received each and every morning from her.
Lynn always put herself last when it came to the children of our community. Her door was always open and her house was a safe haven for many who needed to be comforted and loved. Children big and small enjoyed her laughter and her big heart. Yes, her heart was huge. Always giving, never wanting to receive anything in return.
Lynn was the most honest, loving, compassionate, and genuine person you'd ever meet. She will remain in our hearts forever.
If her parting has left a void, then fill it with remembering joy.

Lynn
Let's not stand and weep
For Lynn is far too busy to sleep.
She was a faithful, honest and loving friend.
Who didn't want to leave her daughter, Laura in the end.
She is now amongst the thousand winds that blow
She is within the glistening snow.
She is warm sunlight
And gentle Spring rain
She is in every blade of grain.
She is as quiet as birds in flight
She is the soft stars that shine in the night.
She continues to weave her web of joy
On every single girl and boy
Who knew her present and past
Their cherished memories of Lynn will last and last.
~Susan R. Stein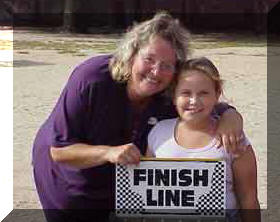 Lynn & Laura 2002
*Please sign guestbook below to leave a message.
Midi playing is: And I love you so
First Photo by Mrs. "Z"
Second photo by Mrs. Susan Stein at the Canaan Carnival 2002