Halloween can be so much fun. It seems like only yesterday I was trick-or-treating.
Things were a lot different then. Kids, be safe. Go to Safety Rules, and read all about what to do to be safe.

Below are some fun sites for you. Ask your ADULT helper to assist you. Stay on task! WARNING: Because of the nature of the Net, and the Web in particular, it is possible to access a series of links that may take a child to almost anywhere. Parents should supervise children while they browse the Web.
Use your back button to return here.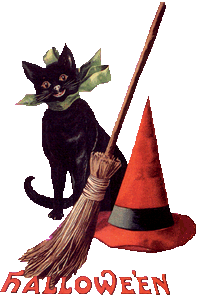 Halloween Fun Index- Games, crafts and treats
Halloween Fun, Games and Party Ideas
GeoKids Halloween Pages
Kids Domain Halloween
SORT THE PUMPKINS:

How many ways can you find to organize and classify your
pumpkins? Use the pumpkins in this pumpkin patch to rearrange and sort them.

CARVE A VIRTUAL PUMPKIN:

By selecting a button for eyes, nose, mouth, and eyebrows,
primary students will be able to carve their own virtual
pumpkins.

THE PUMPKIN PATCH WEBQUEST:

Discover the wonderful world of pumpkins with this student
webquest, beyond the usual jack-o-lantern.

INTERACTIVE PUMPKIN WORD SCRAMBLE:

Have fun unscrambling all of these words associated with
pumpkins, submitting your results, and seeing if you got
the correct response.

PUMPKIN SLIDERS:

Not as easy as you might think at first... Rearrange
these pumpkin puzzles online to create a proper picture.




Halloween Carols and Music
Freaky Fun!
Edible Eyeballs and Other Halloween Treats
Let's Party!
Grandpa Tucker's Halloween Poems
Snake Stew, Hold the Toads
Sammy, the Snickers Snake
How to Take Great Halloween Photographs
Why Bother to Save Halloween?
Other Halloween Sites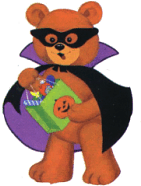 Some of these link require an adult helper to help you do these activities. It will be fun for mom or dad to put your picture on a site. Never use your name or tell ANYTHING about yourself!! REMEMBER!! Never forget.
Fun Halloween Spooky Stories
Halloween Village For Kids
Heather's Scary Halloween Page-For Kids Only
Ben and Jerry's Halloween Page- The ice cream guys!!
Scary Story - Fun but scary story for kids.
Spooky Sound Search - Must find sounds to gain entrance into the Sound Vault.
Your Picture - Put you your favorite picture (or your picture) on our site instantly.
Midi Tunes - Spooky and not so spooky midi tunes.
Jack-O'-Lanterns - Pumpkin Carving and more
Trick-or-Treat - Harmless internet tricks and treats.
Monster Links - Links to Halloween sites .
(Or use your back button!)